Download the game
---
Comments:
Mmm-kay so perhaps I am the wrong person to write a review here, since I actually haven't read said book properly from start to finish (and the bits I did read I can't remember). But this is, after all, a game, so the important thing here is playability.
Not only does this game seem to be crammed full of references to said book, it also manages to be very enjoyable to play, and for the most part, aesthetically pleasing and rewarding. The game follows an almost exclusively linear room layout, going through the rooms in sequence from left to right, progressing (presumably) through the chapters and events of said book.
As in We Pretty, every room contains a challenge. There are no 'walk along... jump up a few platforms... collect the object... carry on walking... onto the next screen' rooms at all. Almost every screen will need to be boggled at for a while, as you look for the right way to approach it. This is, in my view, what makes the game so unique. Coupled with the linear format, it means you get a little further each time you play, and gives it a different feel to all the other 'clones' out there.
My only criticism (and these are not my words but someone else's, although I agree entirely so I will repeat them) is that although the game comes in two flavours, Easy and Hard, the Easy version is far too easy, and removes a lot of the devious little puzzles from the gameplay, whereas the Hard version is just prehaps a smidgin too tricky. My advice to you is to play the Hard version - it gets easier as you get used to it, and you won't miss any of the little tricks that make it such an interesting game.
Review written by the amazing Sendy - (Home Page - E-mail)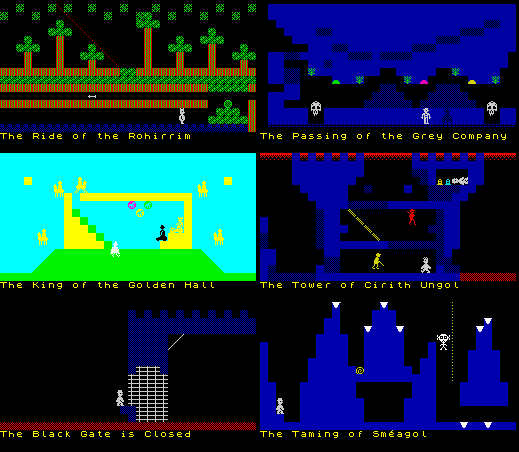 ---
---