Manic Miner Mythologies

E U G E N E
Jepp, this is my latest (and first) Manic Miner Game for the 48K Spectrum! This time it's not Willy who gets to collect all the colour cycling items, but the most feared (and misunderstood) of all Manic Miner characters; Eugene! (From Eugene's Lair...)
A damn fine program, including a full screen animated Miner Willy!

THE DOWNLOADS:

TAP-Version (17.5Kb zipped)
SNA-Version (18.3Kb zipped)
PC (DOS) Version (51.6Kb zipped)*


Why I did this? Well, the Spectrum was my introduction to computing, and there for it's got a very special place in my heart (I had it converted to a pace maker...). I've always wanted to see how far I could push the little attribute clashing bugger (especially in the colour department) and this is the answer... Anyway, it's quite a challenge these days to operate within such a limited 48K framework... and... hell, I had fun doing it!

* The PC version is basically the same as the Speccy version (Cross compiled using the Warajevo Z80 Compiler) but the colours do vary somewhat from the original (The "Brights" are much brighter than usual...(EGA-colour sceme...))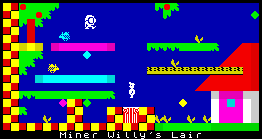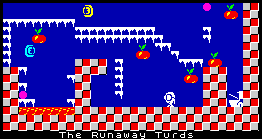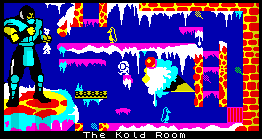 NOTE 1:
This program was made using the brilliant X128 emulator and haven't been tested on a real Spectrum yet! (It shall be done...)
NOTE 2:
If you intend to run this show on the Warajevo Emulator, please select the option 'Kempston joystick by cursor keys' from the setup-menu.