visitors to
this page since
21-09-2000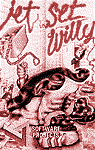 Erix1
aka: Vidar Eriksen
& 'minertech'
Location: Norway
E-Mail

All art by Vidar Eriksen
Manic Miner Mythologies - Eugene Lord of the Bathroom
THE STORY:
Earth's destiny lies in the balance. Rumours has it that mad scientists are developing a new weapon so dangerous it makes the a-bomb look like a firecracker. Reliable sources confirms that it's got something to do with Miner Willy's DNA, some radioactive components and a fairly large sausage. Eugene, the most evil being in the galaxy, ain't to happy with people who go out and do evil stuff without letting him in on it, so he has decided to find out what's going on, kill the bastards responsible and possibly destroy the entire universe.

Well, that's what happens when one writes the plot after the game's all done... But then again, we all know that Manic Miner games don't have to rely on sophisticated plots. It's all about the thrill of jumping up and down... So, take Eugene (That toilet drinking, four eyed bugger from Manic Miner part one) and guide him through 16 levels of unspeakable 48Kb glory!

WHAT'S NEW?:
-16 Levels instead of 20. (Due to the compulsive act of including a full-screen Sub-Zero... (5Kb!))
-No music (Made room for more code and gfx and room for a more pleasant gaming experience...Sorry Matthew...)
-A Jet Pac-like interlude (Level 9)
-A huge animated mutant Manic Miner (16'th Cavern)
-New end of game sequence
-And a bunch of minor details not really worth mentioning...