visitors to
this page since
21-09-2000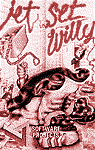 SJ Hill
aka: Stuart Hill
Location: UK
Email
Homepage
JSW - The Utility Cubicles (48k)
Download Utility Cubicles 48k
Year: 2000
Format: SNA
Size: 25Kb
Zip-file include: 1 SNA-file Comments: "Utility Cubicles" is a game that was made as an experiment in using Paul Rhodes' editor, and so it's a fairly stream-of-consciousness effort. It's actually pretty cool, split into sections like the Castle, the Pyramid and so on, all of which kinda gives the impression a little world all of its own. You could always complain about the abstract layout (the exact same one as in the original game) or the lack of plot, but hey, unless I'm *very* much mistaken you're here to do homage to a pair of games about a little guy running around mines/houses populated by a wealth of animals, mutants, robots and household objects, ALL of which are fatal to touch, so don't you start about plot errors. Who needs plot anyway? Nobody ever bought Tomb Raider for a plot. Nooooo, they bought it for two large round objects bouncing up and down. Willy did it's damndest to compete, but the thing in the bathroom just wasn't the right kind of round things (we think - no-one is fully sure what they actually *are*) Anyway, the gist of this rambling nonsense is, get this game. It's not like you're paying for it anyway. Don't you know a free lunch when you see one? Review by the mighty SOA1000

Monstrum
Monstrum! is based on the autobiography of Tony 'Doc' Shiels, which was published by Fortean Tomes in 1990.
Got that? Good...
Tony Shiels is a painter who, for the past forty years or so, has worked in the Cubist, Rheotist, Abstract and Surrealist traditions. He has exhibited widely and has been described as "the finest painter of abstract seascapes" within the St. Ives' School. He has also worked in the spheres of theater, music and conjuring.
NOT a very good basis for a wacky JSW game, is it? That would be so if it weren't for Tony's 'alter-ego', the genuinely bizarre 'Doc' Shiels. Imagine the scene - Doc is standing on a cliff top, overlooking the mighty Helford River. While his assistant fires out a Celtic tune on a button accordion, Doc violently shakes what seems to be a cow skull, shouting at the top of his lungs, "Morgawr! Morgawr!" He is attempting to summon the famous Cornish sea-serpent.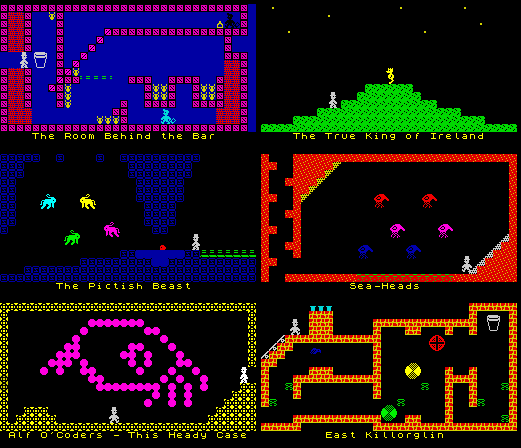 Doc did a lot of this, mainly in the late seventies, and claims to have aided in the summoning of Morgawr, The Loch Ness Monster (which he photographed), a bizarre winged-entity called The Owlman, and a Marine Pieste (a type of Irish sea-serpent). He describes all this in his autobiography, 'Monstrum!', which is well worth a read. What exactly Doc Shiels was attempting to accomplish during this period is 'complex' to say the least, and only one author, Jonathan Downes, has attempted to get to the bottom of it; his book, 'The Owlman and Others', is also worth a read.
When writing my previous Willy game, I included a secret room called 'Doc Shiels' Sea-Head Factory' (Sea-Heads are an artistic symbol Doc uses). The room was created mainly because of the similarity between Willy's top hat and Doc's (slightly taller) stove-pipe hat; this lead to my contemplation of an entire game based on Doc's weird adventures - Andrew Broad has proved conclusively that the subject matter for a Willy game can be decidedly non-Willy. So I did do this, and here is the result.
So, the instructions for the game?
Recreate Doc's adventures while collecting various 'goodies' on the way; after all they're there, so why shouldn't you grab them? Maybe they'll help you at some point.
Download Monstrum
Monstrum - composite images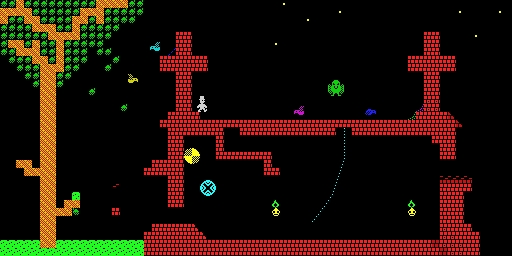 Mawnan Church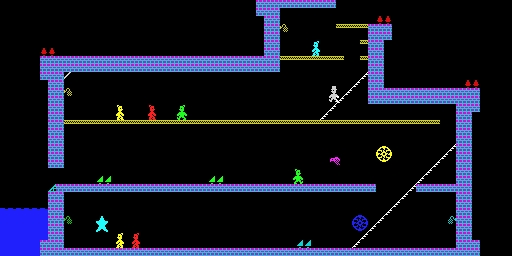 Urquhart Castle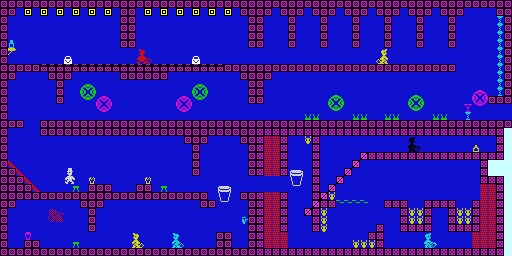 The Red Lion