visitors to
this page since
21-09-2000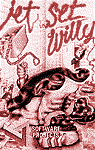 Willy's Time Machine
Willy Goes to the Moon
Willy goes to the moon is a new project where the idea is to get the public to follow its development as it happens to hopefully give suggestions on how to improve it.
As it stands there are about 15 rooms.
The airlock room is blocked off and the transporter room is unfinished.
A Very Willy Christmas
Made using the Games Factory designer
See scott's site for more on Games Factory