visitors to
this page since
21-09-2000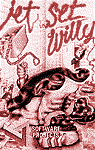 Adam Britton
Location: Australia
mailto:abritton@crocodilian.com
Homepage (Crocodilian) not JSW, but well worth a look!

The Continuing Adventures

Year: 1985 Format: SNA Size: 20Kb Zip-file include: 1 SNA-file The plot:
Miner Willy bought his mansion and threw his party, and the events surrounding the aftermath of this were told in Jet Set Willy - all the mess had to be tidied up before midnight so Maria would let Willy get to bed. Of course, dutiful as he was, Willy managed to collect all the objects in time and had a rewarding night's sleep. During the night, however, strange things were afoot. The attic bug, found in the original Jet Set Willy game, has been corrupting Willy's house and changing the fabric of time and space. Willy awakens to find that his mansion has been considerably changed! Even the bathroom is different. As for poor Maria, she's turned into a machine and shows her anger by not letting Willy back into bed ever again unless he fixes the mess by picking up all the objects again that have been redistributed and corrupted by the attic bug. The cook, meanwhile, has been having his own party...
Comments: Nice game, but the problem is it's impossible to finish (Something which is fixed in the special edition...)

THE CONTINUING ADVENTURES (SE) 1998 Release fixing all bugs and making it possible to finish the game.

Size: 30Kb - Format: TAP (TXT-file incl.)

The new screens

Back to Spectrum index

Willy's Holiday

Year: 1985 Format: SNA Size: 21Kb Zip-file include: 1 SNA-file

Comments:
This was my personal favourite for a while... Many of the rooms have the brilliant atmosphere of the original JSW, but in the new context of being set in a hotel. This has some good rooms, and some okay rooms, so overall it's fun. There are some nice visual touches which show humour and imagination (essential in a JSW game) and many of the guardians are exclusive to the game, which is cool. Much of the game is set outside of the hotel, in the well designed subway and sewer sections, the gardens and outside grounds, as well as some perculiar rooms which are completely surreal (yessssss!) such as 'The White Room' which is hard to escape from (1) because of it's unusual connection configuration and (2) because the background is the same colour as Willy! All in all, above average, but slightly inconsistent in places. Well worth playing! Review written by the amazing Sendy Highly playable! Even got some sort of an intro-thingie going...(Erix1) Back to Spectrum index

The Deadly Mission

Year: 1985 Format: SNA Size: 20Kb Zip-file include: 1 SNA-file Comments: Willy sure do hang around a lot in space... A great game with loadsa new gfx!