visitors to
this page since
21-09-2000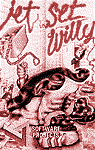 MINER ENDINGS
Here's a collection of the end sequences from various Manic Miner/ Jet Set Willy-games. Since most games were made in the 80's, crammed into 32-64Kb-computers, a short description and a screen shot pretty much sums up the experience...
---
Spectrum Manic Miner: After exploring and plundering 20 caverns, Willy gets back up to his house. This cannot be done with the "WRITETYPER" or "6031769"-cheats activated...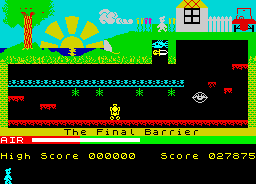 Jet Set Willy: After cleansing the mansion, the nightmarish Maria sods off and Willy's ready to get to bed. However, the after effects of the mammoth party sets in, and Willy runs to the bathroom and throws up in the toilet.


Eugene -Lord of the Bathroom: When Eugene has cleared 16 screens uncovering the mystery of the mutant Manic Miner, he gets to say hello to the master himself.


Jet Set Willy 2:Instead of the old throwing-up-in-the-toilet-routine, Willy winds up in the Central cavern again, and jumps up and down in anger.