visitors to
this page since
21-09-2000
Jet Set Authors
Games Archive
Systems
Manic Miner Technologies
Mass Collaboration
Links
FAQ page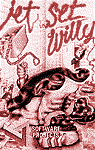 Welcome to Jet Set Willy Remakes. If there's a new game with our Willy in it, chances are it'll appear here somewhere. Have a butchers' at What's New around the site. I know I know - loads to catch up on, and it's all my fault. Real life keeps getting in the way...
Also, feel free to contact us with any requests or suggestions (Use the Yahoo MM/JSW Group) - discuss them online at the discussions page.
Cheers,
- Gawp!
"Rich from his past mining exploits, Willy has bought a huge mansion with over 60 rooms, most of which he has never seen. There's been a mammoth party and the guests have left the place in a dreadful mess. Willy just wants to go to bed, but his housekeeper, the nightmarish Maria, won't let him until every bit and piece has been picked up and tidied away."
... and so it began...
2002
I disappeared for a bit. Many reasons - but the main one was the birth of lil' Gawp #2 (a boy). He's cool. ;~D
I've missed sooooo much stuff, and am trying to update. Use the Yahoo MM/JSW Group to suggest updates...
2001
2000
"Jet Set Willy isn't a matter of life and death.
It's much more important than that."
- Frank Shankly